Getting to the Saturna Lamb Barbeque
---
By Boat:
When you arrive at Saturna Island, boat anchorage is available at Winter Cove on a 'first come first served' basis. Dinghy shuttle service is available 'boat to dock'. You can choose to be rowed in on the Saturnita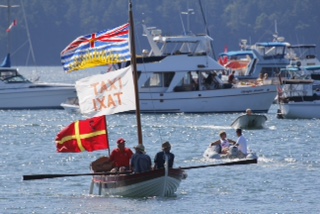 or on a more conventional inflatable.
Dinghy tie-up space on the docks is very
limited.
Information on the BBQ and the Island is available at the dockside 'Welcome Booth'.
Boaters are required to have life jackets, boat to shore; life jacket lockup service available at Welcome Booth.
No alcohol may be brought ashore to the Barbeque grounds. Health rules require that we do not allow dogs on-site but we do have a pet minding service close to the dock.
By Ferry:
Saturna Island is serviced by BC FERRIES from Lower Mainland (Tsawwassen terminal) and Vancouver Island (Swartz Bay terminal) to Lyall Harbour.
The Ferry Schedule for Saturday, July 1st, 2017 has a Special Sailing to accommodate BBQ guests! Ferry Schedules
BC Ferries added the Service Notice about the July 1 to their website. It can be found at the bottom of the Southern Gulf Island/Swartz Bay departures schedule.
If you are coming from Tsawwassen, reservations are recommended for both vehicle and foot passenger, as soon as possible.
If you are coming from Swartz Bay, reservations are not possible, so please arrive early at the terminal
Saturna Shuttle:
The Lion's Saturna shuttles will be operating at ferry times to transport footies to and from the site.
By Float Plane:
Contact seair for schedules: www.seair.com
Driving and Parking:
Follow the main road (East Point Road) from the ferry terminal up the hill (1.7 km), at the General Store 'Y' turn to left past the General Store
and follow the winding road (4.9 km) until you reach the 'T-intersection' (it will be obvious). Here, you will be directed to road-side parking by traffic marshals.
You'll find the Barbeque grounds at Hunter Field adjacent to Winter Cove Park. There will be a large Canadian flag flying there.
Water Taxi Service:
Water Taxi From Victoria
Kelly Stevenson
Dockside Charters
96 MacKenzie Crescent
Victoria, B.C. Canada
V8L-3X9
(250) 217-4488
www.docside-charters.com
kstevenson@telus.net
FROM MAYNE ISLAND
www.maynetours.com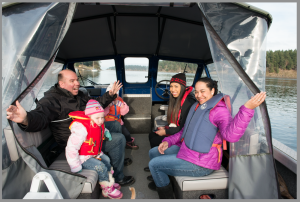 Visitor Information
---
About the BBQ
---